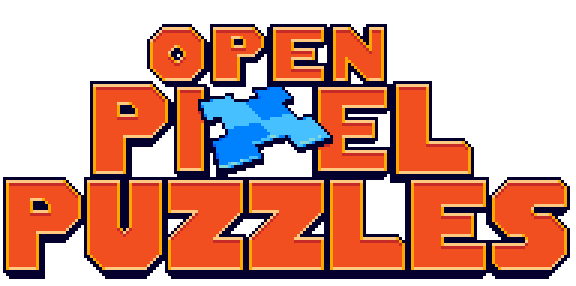 Open Pixel Puzzles
A downloadable game for Windows and Linux
Open Pixel Puzzles is a free pixel art jigsaw puzzle game. Whether you're a fan of pixel art looking for an excuse to examine pieces up close or a jigsaw puzzle fan looking for a digital option, Open Pixel Puzzles aims to please.
The game is still in an early WIP state, with only 1 puzzle available. The demo is still fully-playable and well polished though, give it a shot!
Controls
Currently this game can only be operated with the mouse:
Left Click & Drag: Pick up a piece or group of connected pieces, release to drop
Right Click & Drag: Pick up a single piece (breaking any connections it has), release to drop
Scroll Wheel: Zoom in / out
When the puzzle area is larger than the window, you can also pan the view by clicking and dragging the middle mouse button.

More control options will be added in future releases.
Long-Term Goals
Since this game is still WIP, there's a lot that I'd like to add to it. I can make no guarantees, but here are some of the things I'd currently like to add in future releases:
Many more puzzles (of course)
Support for more advanced puzzle types. Circular puzzles, shaped puzzles, funky piece shapes, compound puzzles, animated puzzles...
Piece organization tools
Autosave
A built-in puzzle creator allowing players to create and share their own puzzles
Support for UI skins / resource packs
Keyboard and gamepad controls
Mobile / tablet support
How Free Is This Game?
These days, it's common to see "Free" games that are making money through ads, data collection, micro-transactions, etc. Open Pixel Puzzles is not one of those games. This game is a labor of love, created purely for others to enjoy. There is no revenue model at all, just fun to be had.
Moreover, Open Pixel Puzzles isn't just free to download and play--this game's code and assets are available for use under open licenses, making it a piece of free culture. You are encouraged to share this game, mod it, or use any piece of it you need elsewhere... The project can be found at https://gitlab.com/Df458/open-pixel-puzzles, along with more detailed licenses for each of its component parts. You don't have to, but I'd love to hear from you if you use this in your own project!

Comments
Log in with itch.io to leave a comment.
Nice jigsaw puzzle game! The demo illustration has distinctive features that help like the sword and light shaft, while wood, rock and trees are trickier…
A few suggestions:
a way to preview the final picture in case you forgot some parts (e.g. hold Tab or click on a button to show it)
a way to visualize lines between puzzle parts, as in real world jigsaw puzzles (e.g. hold Shift to see them, or click on a buttle to toggle them). This helps remembering you did a certain combination but it may not be the right one (with flat colors it's easy to think a combination matches whereas in fact it doesn't, and seeing that a junction line exactly matches a color change can help spot these mistakes)
possibility to combine puzzle pieces outside the main frame (e.g. hold ctrl to allow sticky combination even outside frame)
more intermediate levels; there is a huge gap of difficulty between 8x8 (done) and 16x16 (not sure if I want to try without at least the picture preview feature…)